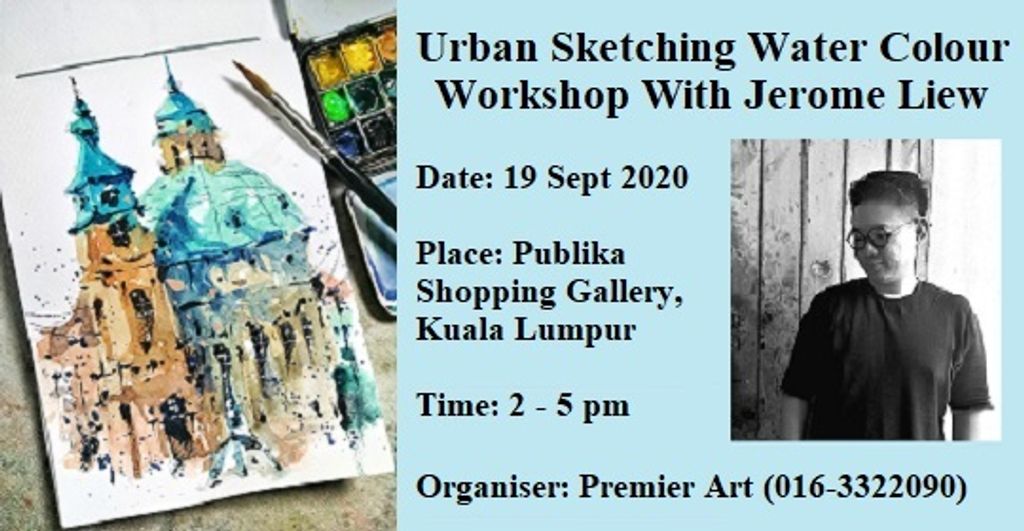 URBAN SKETCHING WATER COLOUR WORKSHOP WITH JEROME LIEW (19 SEPT 2020)
Urban Sketching Water Colour Workshop With Jerome Liew
Date: 19 Sept 2020
Place: Publika Shopping Gallery,
Kuala Lumpur
Time: 2 – 5 pm
Workshop Fees: RM165
What materials will you be getting?
A set of Alpha Artist Water Colour (13 colours)
3 Brushes (sizes 3, 8 and 12)
Water Colour Paper A4 (Cold Pressed) 300 gsm
What will you learn from this workshop?
- An easy guide for watercolour technique.
- Painting watercolour without fear.
- Basic perspective landscape.
- Knowledge of using brush & colours.
- Knowledge to paint everything with watercolour.
- City scenery & landscape.
- Proper Color mixing & controlling water.
- The happy result for painting.
- Gain new tricks for painting.
About Artist
Jerome hails from Kuching, Sarawak and is a dedicated, friendly and helpful person and a self-taught artist who is actively involved in the Malaysian art scene. He is currently the vice president of KL Sketch Nation and also an active member of Kuala Lumpur Urban Sketchers and Sketchwalk Kuala Lumpur.
With his extensive exploration in the watercolour medium, he thinks that drawing & sketching was given an impression that they are hard to start with, so he wanted to break that mentality and get people to draw with elementary steps!
He spends his weekend around Klang Valley to sketch around beautiful buildings and old heritage of Kuala Lumpur to record the moments by drawing. Besides describing, he also teaches & shares outlining courses for adults.
His core skills is a watercolour landscape & portrait sketching & painting. He likes to record beautiful scenery of Kuala Lumpur with sketches and painting with watercolour. He thinks that this is very important because most of us forgot how our culture evolves from time to time, he sees every moment as a precious recording moment by using pencil & brushes to witness the evolution of our cities and culture.